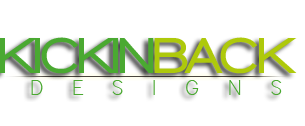 Creative web design starts
View portfolio
View services
Welcome to KICKIN
BACK

designs

In today's business environment it has become critical to create an identity on multiple platforms from print to web for existing and potential customers and fans to find you. That identity will define and give you the competitive edge. KickinBack Designs believes in the power of T.E.A.M. a solid approach to rounding out your future.
Who we are?
An Effective and Compelling Website Is Your Most Valuable Asset! Your website is often the initial introduction of a prospect to you. Every aspect of the site must be carefully executed and professionally managed to ensure you create a site that supports visibility on the web, high-impact when viewed, and a compelling connection with the visitor.


We are proud to be a veteran owned and operated business.

Read More
What we do for you
Power of T.E.A.M.
Testimonials
"I'm writing to tell you how thrilled I am at the work you have done to upgrade and simplify our Justice for Daniel Faulkner website."
Maureen Faulkner
Justice For P/O Daniel Faulkner